May is Mental Health Awareness Month
Yesterday I wrote about how the city is celebrating April with a series of Planet Palooza events. Today, I'm sharing news from the City on a series of special events to celebrate May as Mental Health Awareness Month.
This is one of the most important articles in this month's newsletter from Southborough Youth & Family Services. In line with this theme, the newsletter also shares the following message on Find mental health support:
Over the past two years, we have all collectively experienced an increase in chronic stress, disruption, disconnection and trauma. Frequent changes in the pandemic landscape have exacerbated these problems by adding confusion, conflict and insecurity. With all of us experiencing these same issues at the same time, it's no wonder the field of mental health has encountered a tsunami of needs. As a result, many struggle to find mental health support for themselves and/or their loved ones at a critical time. Below we have provided an article and a press release from the White House regarding these issues, other factors contributing to the lack of services, and strategies to address the issue. At SYFS, we work hard to try to provide additional resources for residents, strategies to support each other, and provide information on what to look for in a psychiatric emergency. We have provided information below about the workshops that are available free of charge to residents as well as the mental health support services we offer.

You may feel frustrated in your search for a supplier, which can lead to increased stress levels. We are here to help and provide interim support. Do not hesitate to contact us even if it is for a one-off conversation.
Events include book and movie talks, story hours, lectures, a hike, and more.
Other articles in the newsletter include news about upcoming sessions of SYFS training workshops on "Listening with LOVE." and "QPR Gatekeeper Suicide Prevention". And that's reminiscent of the mental health support and treatment counseling services they provide. Additionally, he continues to promote the possibility of nominating someone for the Laurie Sugarman-Whittier Wellness Award.
But as I've talked about in the past, this article will focus on May's theme and planned events.
(For the full bulletin and a video message from director Sarah Cassell, click here.)
May is Mental Health Awareness Month
The annual promotion announcement states:
Each year, Southborough Youth and Family Services (SYFS) celebrates Mental Health Awareness Month (MHAM). It's a time of year that reminds us of the importance of self-care and compassion. It is also a time for us to connect with each other and support each other, as we have all been affected in one way or another by mental health issues. That's why the National Alliance for Mental Health (NAMI) has chosen "Together for Mental Health" as its theme for MHAM 2022, a theme that SYFS will echo this year. SYFS, along with other community partners, has a lot planned in May, from books and hikes to movies and talks. All are centered on health, well-being and mutual support. We hope you will join us!
Special events
A dozen events are already being promoted throughout May in honor of Mental Health Awareness Month. (Stay tuned for more events to come in the next month.)
SYFS wrote that event registration will be available on their website, but some of them include registration information/links below:
mental form
Monday, May 2, 7:00 p.m.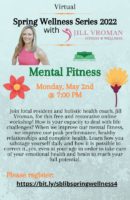 This event is part of an ongoing series of zooms by Jill Vroman and the Southborough Library. "When we improve our mental fitness, we improve our peak performance, our healthy relationships and our overall health. Learn how you sabotage yourself daily and how it can be corrected. (Click here for more details and to register)
Southborough goes green
Friday, May 6
The community is encouraged to wear green as a sign of support.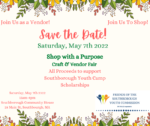 Shop with a purpose
Saturday May 7, 11 a.m. – 4 p.m.
A special shopping event at the Community House to raise funds for the Southborough Summer Camp Scholarship Program. (For more details, see the dedicated post.)
Community hike
Sunday, May 15, 1:00 p.m.
Stay tuned for details (including location) of a trail committee sponsored hike.
Preschool Storytime with Miss Kim
Monday, May 16 and Tuesday, May 17, 10:30 a.m.
The books and crafts for this week's preschool storytime theme will be consistent with Mental Health Awareness Month. The events take place in the Children's Room of the Southborough Library. No registration is required.
Lunch break: group of parents
Wednesday, May 18, 12 p.m.
Parents are invited to this zoom session "Helping your children manage their stress by managing yours".
Rotary Club of Southborough
Wednesday, May 18, 7 p.m.
This Rotary Club meeting will include a SYFS speaker
Story time for babies and toddlers with Miss Kim
Thursday, May 19, 11 a.m.
This story hour with puppets, stories and music is for children 0-2 years old and their parents or guardians. This session's selections will be consistent with Mental Health Awareness Month. The event takes place in the Children's Room of the Southborough Library. No registration is required.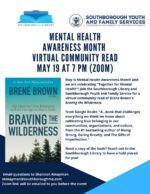 Community reading discussion
Thursday, May 19, 7 p.m.
A zoom panel discussion of the community reading selection "Braving the Wilderness. Co-sponsored by Southborough Library
Community Watch: Resilience
Saturday May 21, 12:00 p.m. – 1:00 p.m.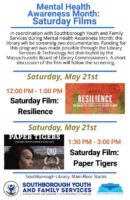 Southborough Library will screen the documentary Resilience: the Biology of Stress & the Science of Hope.
Community Watch: Paper Tigers
Saturday May 21, 1:30 p.m. – 3:00 p.m.
Southborough Library will screen the documentary Paper Tigers: One High School's Improbable Success Story. A short discussion about the film will follow the screening.
Both Community Watch programs are sponsored by the library with funding made possible by the Library Services & Technology Act distributed by the Massachusetts Board of Library Commissioners.
Trauma-Free Communities
Tuesday, May 24, 7 p.m.
Zoom movie discussion group. Stay tuned for more details.